Good morning everyone and welcome to a new Crafty Ribbons Challenge.
Thank you all for your fantastic entries for our last challenge.
It was lovely to see so many of you joining in with us and to get to see all your gorgeous
creations......We hope you will join us for this challenge....
Before we move on we have some NEWS,


A DT CALL


We are looking for someone new to join our team BUT and it is a big but we are not looking for a card maker we have the most perfect card making team and we are NOT looking to add to it at this time...
What are we are looking for??? ......well....
Someone who can use the ribbons in different ways,maybe incorporating it into knitting,sewing making different projects these can be paper projects etc just NO cards...
If there is anyone out there who could do the above and would like to join our fabulously friendly team then please send me an e-mail to the following address mpfox1@btinternet.com with a little bit about yourself and a link to your blog...The lucky person will be announced with the start of the new challenge....
Good luck everyone....
DT CALL NOW CLOSED
Now we would like to announce the Top 3 and the winner of the last challenge......
And our Top 3 as chosen by our host Bonnie for challenge 30 in no particular order are......
Please e-mail us at craftyribbonschallenge@gmail.com to claim your badge....
And our winner chosen by Random Org is......
Here are your random numbers:
11 
Timestamp: 2012-10-24 19:04:13 UTC
Many congratulations Lisa Jane Please contact us at craftyribbonschallenge@gmail.com
so we can arrange for you to receive your prize....
Now onto our new challenge........ And it's my(Mandy) turn to host, and I've got the theme of......
'CHRISTMAS'
Now I know all of you are busy making your Christmas cards/projects so I would love to see what you are making,please link up and join in with us ......
This challenge will run from 8.30am 25th October until 6pm 7th November......
The prize this time will be.......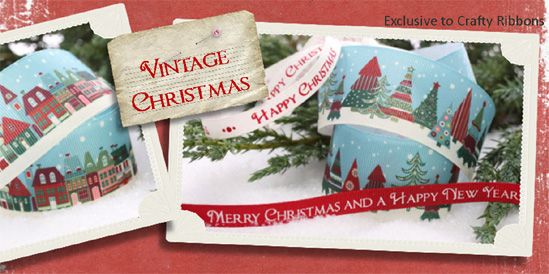 A Beautiful selection of the Vintage Christmas Ribbon
Here are the DT's inspiration for you all....
Also don't forget if you pop over to the Crafty Ribbons Company Blog here you can enter the Friday Freebie,every Friday Ali and Tony offer ribbon for some lucky person to win,all you have to do is leave a comment on the Friday freebie post it's easy so why not check it out as well...........